Barbie: A Marketing Case Study That Will Last For Years
Whether you indulged in a weekend of reading Barbie reviews or enjoyed a trip to the cinema to watch the movie, one fact remains undeniable: the film's mega-marketing campaigns have left an indelible mark on audiences everywhere. Few can deny being awestruck by the sheer brilliance of Barbie's marketing strategy. Thus, we, fortunate to be among the privileged few, have taken it upon ourselves to analyze this world-renowned marketing case study and its profound impact on the landscape of movie marketing for generations to come.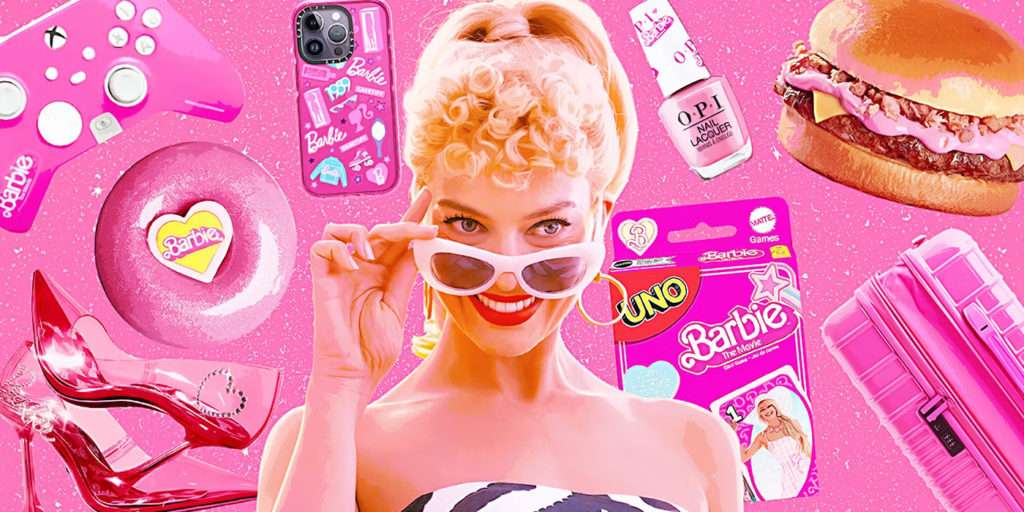 1. Barbie's Movie Marketing Extravaganza
Breaking free from the shackles of traditional marketing norms, Barbie's extraordinary marketing campaign demonstrated a bold and daring approach that captivated audiences far and wide. With a staggering $150 million budget, Barbie's movie became an unforgettable experience that transcended its fan base and even enticed non-Barbie enthusiasts.
Retail Collaborations
The Barbie marketing team embraced creativity, moving beyond simple merchandise and engaging in imaginative marketing endeavors. By forming partnerships with over 100 renowned brands, the iconic color pink became an ever-present trend during that summer. Significant companies like ZARA, Forever21, Xbox, Crocs, GAP, Krispy Kreme, Burger King, Pinkberry, Balmain, and Coldstone Creamery eagerly joined forces with Barbie in anticipation of the movie's grand premiere.
Health & Beauty Collaborations
One of Mattel's commendable marketing tactics involved creating Barbie clones worldwide and empowering fans with the right beauty tools. The Barbie enthusiasts were spoilt for choice with 12 fantastic collaborations, ranging from an NYX Cosmetics makeup kit to an LÓreal Barbie flat iron, enabling them to emulate their favorite Barbie dolls in style.
Travel Collaborations
But Barbie's allure did not end with the merchandise. An exceptional treat awaited her fans in the form of a tour through Barbie's Dreamhouse by the fabulous Margot Robbie. Even more astonishing, fans had the unique opportunity to actually stay in the illustrious Malibu Dreamhouse through Airbnb, which underwent a glamorous makeover to transform into the embodiment of Barbie's dream. People could now live like Barbie during their vacations, an experience that left everyone enchanted.
Media Collaborations
Barbie's marketing team wasn't content with conventional media partnerships. Instead, they sought out innovative platforms to generate a distinctive and buzzing Barbie atmosphere. Among the nine media collaborations, one stood out – an association with the Washington Post that resulted in the creation of a captivating newsletter named "Unboxed."
Furthermore, Barbie joined forces with Pinterest, introducing an ad campaign called "Not Just Ken," which brilliantly showcased Barbie collaborations on curated Barbie- and Ken-themed boards. Additionally, a delightful partnership with Google featured a magical twist when anyone searched for "Barbie," "Barbie movie," or "Margot Robbie" – the screen turned pink, and sparkles filled the display, perfectly capturing the essence of Barbie's enchanting world.
In conclusion, Barbie's movie launch was a grand spectacle with unique marketing strategies that captured the imagination of people worldwide. The $150 million investment was not just an expense; it was a masterstroke that transformed Barbie into an experience that left everyone craving more. By defying limitations and daring to be different, Barbie's movie launch became a beacon of inspiration for marketers worldwide, proving that innovation and creativity know no bounds when it comes to captivating an audience.
2. Barbie's Organic Media Success: A Powerful Marketing Story
Barbie's marketing team has proven once again that they are a force to be reckoned with. In a recent interview with Variety, Josh Goldstin, the Warner Bros. president of global marketing, highlighted that the major portion of Barbie's success was achieved organically.
The team used a clever strategy called the breadcrumb approach. They slowly attracted customers by creating curiosity and excitement at different points before the movie's release.
It all began with a teaser trailer directed by the famous Grega Gerwig. The trailer took an unconventional approach, parodying Stanley Kubrick's renowned film, 2001: Space Odyssey. In this parody, Margot Robbie replaced the iconic monolith, sparking conversations and discussions among Barbie's audience.
Four months later, Warner Bros. released a second teaser trailer, featuring more footage from the film. This led to even more people sharing and talking about Barbie's content.
3. Barbenheimer: A Fortunate Coincidence in Barbie's Favor
Apart from the Barbie team's innovative endeavors to promote their movie, another unexpected factor played a significant role in generating buzz. This was the simultaneous premiere of Barbie and Christopher Nolan's biographical thriller, Oppenheimer.
The convergence of these two high-profile films sparked a wave of organic excitement among fans, who began creating humorous meme-like content, humorously contemplating which movie to watch on the shared opening night.
4. The Barbie Craze: Embracing a Universal Identity
If you're a regular Instagram user, chances are you've encountered the viral Barbie filter and selfie generator. Leveraging the power of individual expression, this filter allowed fans and influencers alike to join the Barbie frenzy and experience the thrill of becoming a Barbie version of themselves.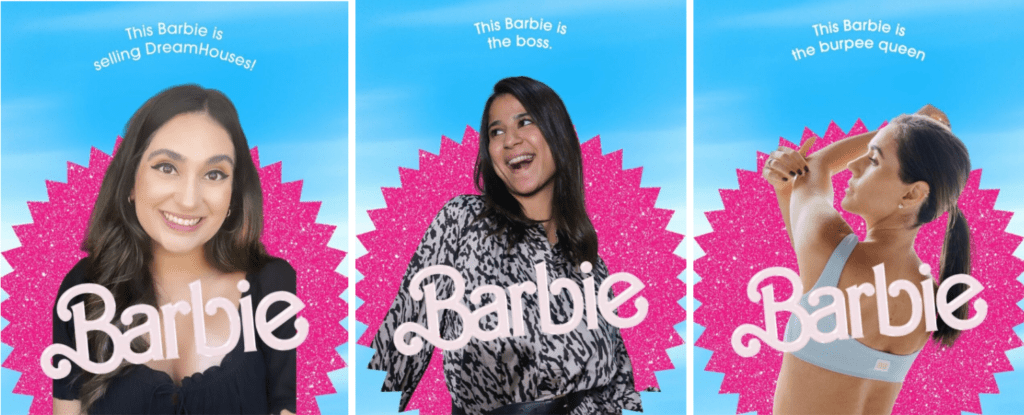 The filter's widespread popularity extended beyond personal use, with Instagram businesses, meme-related pages, Korean drama enthusiasts, fitness ventures, real estate brokers, and various other communities embracing the trend by incorporating the filter under the hashtag #ThisBarbie. The phenomenon showcased how the concept of Barbie transcended boundaries and appealed to a universal identity, uniting diverse sectors of the platform.
5. The Barbie Team's Exceptional Dedication Outshines the Devil's Work
The Barbie marketing team has a remarkable history of successful marketing endeavors, going beyond their signature pink-infused collaborations.
Nostalgic marketing has been a cornerstone of their strategy, appealing particularly to older generations who hold sentimental value towards the Barbie doll. Since its initial release in 1959, Mattel, the toymaking giant, has skillfully created numerous touchpoints for Barbie consumers to establish a deep connection with the iconic doll. Parents and older siblings who once purchased the doll for loved ones, as well as children who grew up playing with Barbie and cherished their dolls, all have an emotional bond with the brand.
To address social issues like racism, Mattel took a clever step by introducing the first black Barbie doll in 1980, promoting inclusivity among Barbie users. In the early 2000s, the company explored innovative marketing tactics, launching its first movie, "Barbie in The Nutcracker," along with figurines and campaigns that celebrated influential female figures worldwide.
To address social issues like racism, Mattel took a clever step by introducing the first black Barbie doll in 1980, promoting inclusivity among Barbie users. In the early 2000s, the company explored innovative marketing tactics, launching its first movie, "Barbie in The Nutcracker," along with figurines and campaigns that celebrated influential female figures worldwide.
The series of well-thought decisions and strategies contributed to the success of Barbie's movie premiere, attracting both devoted Barbie enthusiasts and new admirers. The Barbie team's relentless dedication and marketing brilliance have proven that their efforts surpass even the hardest-working adversaries.
6. The Empowering Influence of a Multi-Racial Community
The tremendous success of Barbie's movie premiere can be attributed, in part, to the diverse array of admirers it attracted.
Barbie's choice of protagonists and supporting actors played a pivotal role in drawing a massive audience. With the inclusion of highly popular actors like Robbie and Gosling, alongside a multi-racial cast, the movie became a magnet for viewers from various nationalities. Existing Barbie fans were joined by new admirers who were enticed by the opportunity to see their favorite actors in a fresh cinematic venture. The presence of British, French, American, and Canadian actors in the same film undoubtedly contributed to the movie's blockbuster reception.

Additionally, Barbie's marketing efforts showcased commendable social inclusion through an impressive array of brand collaborations. By establishing these affiliations, Barbie successfully tapped into the emotional appeal of the partnered brands' customers, even those who might not have initially planned to watch the movie.
The true power of a multi-racial community and diverse collaborations was evident in Barbie's triumphant movie premiere, paving the way for more inclusive and successful ventures in the future.
In a captivating fusion of innovation and inclusivity, Barbie's extraordinary movie marketing campaign has left an indelible mark on the world of marketing. The movie's resounding success stands as a beacon of inspiration, showcasing the transformative power of thinking beyond boundaries and uniting a global audience through ingenuity.