Dimensions of Digital Marketing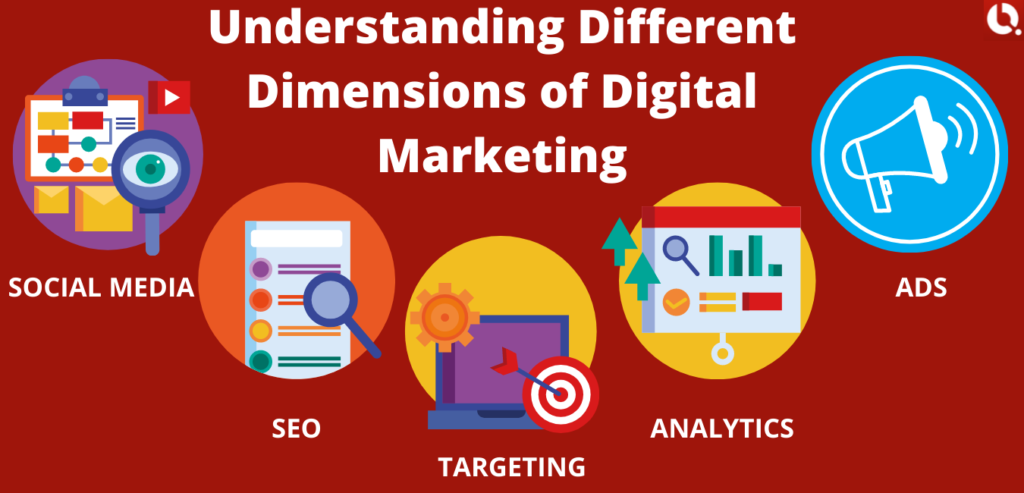 The layman's definition of Digital Marketing is " Marketing done online", it's simple as that. Looking at how the world is pacing ahead, it's the best scheme for marketing to promote and sell your products, services, and skills to the targeted as well as unidentified probable buyers/customers. The reason for its significance in the current time is simply because everyone is on the internet. The basic principle of marketing is to reach the right people in the right place at the right time so you guys must have already understood the basic idea. Internet or electronic devices are the basic platforms for digital marketing. The efforts for digital marketing vary according to the thing that's aimed to bring the right customer's attention. Most used digital channels are the search engines, social media, emails, and websites for their respective services.
Digital marketing comes into play using these channels where the crowd lives virtually. Digital marketing incorporates tools to direct the preferred consumers among the crowd toward your product and track their behavior for further planning. Popular search engines such as Google, mail servers like Gmail, Yahoo, and Outlook, social media platforms like Facebook, Instagram, Youtube, Twitter, TikTok, and Snapchat, and millions of websites have registered regular traffic to be in millions of numbers in each of them. As a Digital Marketer, we aim to use this opportunity for our benefit.
We see people being popular and earning by putting their content out on various platforms. It may seem it's so much easier nowadays for everyone due to open internet accessibility but the reality is a little harsh. There are millions of people working on the same kind of content and products. To stand out it's not only about the quality anymore but your reach to the right consumers matters significantly.
It's the same logic for a business organization to scale up despite the challenges. If you are not implementing digital marketing you are already lacking behind. Despite digital marketing, you may still not be getting your assumed results so understanding digital marketing in depth is very essential. Digital marketing skills get better day by day but it will surely get a bit confusing and overwhelming at the beginning as any other skill set. You need not feel insecure about your confusion and thrive for learning because there is always more to it than you already know.
Now we are entering a bit deeper into the digital marketing ocean which will require you to broaden your attention.
Digital marketing has multiple aspects to it.
Content Marketing
Advertising
Search Engine Optimization (SEO)
Communicating and Analytics
Content Creation in Digital Marketing
"Content is the King" but what does that mean?
Content has a broad meaning as per the context. Here we describe it as the fundamental basis for digital marketing. Content provides relevant information about you and your product/ services. We display our services through different kinds of content that enables us to sell or promote. So without worthy content, the importance of our product to the consumer can be shadowed and marketing alone can't get the job done. In general six kinds of content generates the most engagement in social media.
Entertainment
Inspiration
Education
Conversation
Connection
Promotion
The content creation process depends upon the product. Content creators can go the extra mile using their creativity and even refer to the ongoing trends and then get creative to serve the purpose.
Content can be of the following kind based on format.

Written Content
Written contents require the writer to be as knowledgeable as they can on the product to get his content as precise and detailed both at the same time. We are competing with sharks in the business and boring can put you out of business.
Online content writing can be summed up basically under,
Blogging
Social media content (eg: captions, written post)
Web content
Ad and sales copy
News writing
Creative writing
Industry writing
Graphics Content
Briefly, graphics is the image or visual representation of a concept or object. Graphics holds the ability to catch public attention without them even noticing. We always see these companies spending big chunks on those huge signboards on the streets. Attractive graphics are undeniably a soul part while marketing through social media and websites. Graphics are a necessity for digital marketing. Graphics designing is a whole different set of skills.
Video Content
Video content needs no description to explain what it means because we all are addicted to some sort of video in our daily lives. From a social media perspective, a short video that encapsulates what we want the consumer to receive is the best marketing tool in current times. Creative, engaging, and informative elements must be prioritized while creating a video for marketing. Generally, videos used for marketing are animated videos, motion graphics videos, real-time videos, and advertisement videos. As its significance is highly relevant the videos must be expressive and artistic so that viewers get converted to a consumer.
Advertising in Digital Marketing
Advertising has come a long way if we see its history.
Traditional advertising still has its importance in a business but the trend is shifting toward digital. Today smartphones have become a basic need for a teenager to an elder citizen. The platforms they engage themselves in can be targeted for advertisement.
Advertising is a field on its own which is also a privilege provided by such platforms. We get to choose our targeted audience based on age group, gender, occupation, location, interest, and behavior. We define our budget and run advertisements according to the analytics available. Google ads, Facebook ads, Insta ads are few instances for paid advertisement. Google ads are a medium for Search engine Marketing (SEM) which provides options to push ads in mobile applications too.
The objectives of advertising are categorized by,
Awareness
The objective for advertising can be either increasing awareness of the brand, service or services or for the highest reach possible under the given budget.
Consideration
Here the advertisement encourages people to think about or to know more about the business and its services. The specific objective can be defined such as traffic, engagement, app installs, video views, lead generation, and message. If traffic is the objective it sends people from a Facebook ad to a designated URL.
Conversion
The conversion objective encourages people to take a specific action on your business's site, such as having them add items to a cart, download your app, register for your site, or make a purchase.
SEO in Digital Marketing
Search Engine Optimization is a tool used to rank the websites higher in popular search engines. It's again a field of its own. To show your website on the top of the Search Engine Result Page (SERP) when a user searches with keywords related to your content SEO has its part to play. The major components to take into considerations are:
How the search engines operate
Understanding the people's interests and need
Ways of optimizing and promoting your website
Creating content for business
To be a bit specific you'll need to keep track of and understand:
Emerging trends (e.g., voice search).
Algorithmic changes.
Technological advancements (e.g., machine learning).
Your audience (e.g., how they behave and what they want).
To rank above other websites first, we must understand the basics of search engine algorithms and have a grasp on the kind of content that's trending and also the long-term sustainability. It requires technical specialty in various aspects like:
SEO oriented blog writing
SEO Optimized keywords
Optimizing URL structure for search engines
Page and blog format
Including proper links in the content
Creating SEO optimized landing pages
Mobile-friendly website
Directing traffic from social media
This was a brief idea for SEO because it is a topic for a separate blog for detailing.
Communication and Analytics in Digital Marketing
Keeping the best for the last, communicating with the specific business and according to its requirements coordinating with the team for its fulfillment is an integral part of digital marketing. We as a digital marketing agency need to keep track of changing requirements every day and coordinate the changes and implementation of new ideas regularly. Communication with the different clients, freelancers, agencies, and other personnel from diverse fields comes in the process.
The next is the analytics we get from our past works through which we can analyze and track our performances and come up with better alternatives if required. The progress depends heavily on correcting old mistakes which are aided by analytics. There are mainly four kinds of analytics a business should be aware of.
1) Descriptive Analytics
2) Diagnostic Analytics
3) Predictive Analytics
4) Prescriptive Analytics
A report is generated based on analytics which summarizes the data available. We physically track our activities online, a public tendency toward the business, and store it moving further. After the discussion with the clients about the marketing strategies and schemes, we can adapt to the changing requirements.


Digital Marketing: The future is in your hand
The world is a marketplace from a creator's perspective. The modality of the market is shifting into digital platforms and by the next 20 years, total transformation can be predicted. Digital marketing has already created tons of chances for businesses and individuals to shine which would have never happened with traditional approaches. It's the way things are working so we as an agency want to encourage businesses and even services to take digital marketing seriously. As a saying goes, "the early bird catches the worm", when are you beginning with digital marketing?